Are there any prospects for goat milk in Ukraine?
---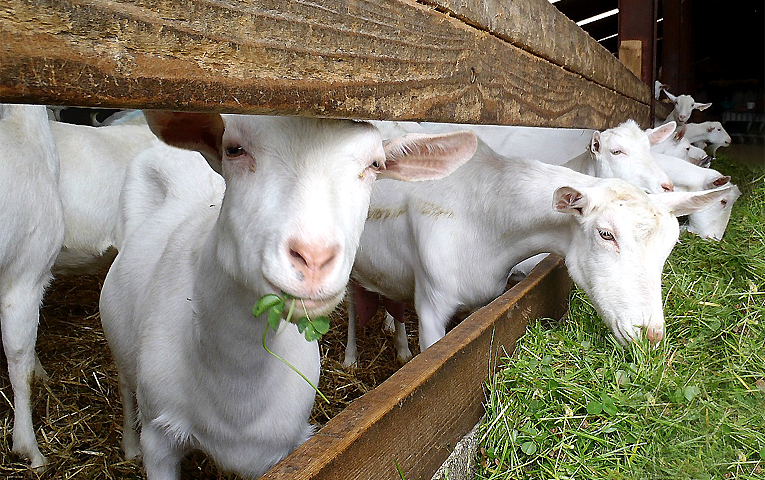 Annually the population of goats at agricultural enterprises is growing. At the beginning of 2015 4.7 thous. of commercial goat herd were being kept. However, it is only less than one percent of total population.
Are there any prospects for goat's milk in Ukraine? A modern resident of metropolis almost does not remember that besides usual to us cow's milk people in Ukraine consumed for centuries milk and dairy products from goats and sheep.
Currently goat breeding in Ukraine is not in the best condition. There are 585.3 thous. heads of goat herd within the country. It is slightly conceding to the results of the last year, but it is mostly due to the loss of certain areas than to deliberate population reduction. A positive issue is the annual increase of goat livestock at agricultural enterprises. So at the beginning of 2015 4.7 thous. of commercial goat herd were being kept, which is unfortunately only less than one percent of total population.
Regionally Ukrainian goats are located more or less equally, however, distinguished goat breeding centers are Odessa region (87,5 thous. heads), Kharkiv region (37,7 thous. heads) and Transcarpathia region (35,5 thous. heads). According to the data of FAO - 254,6 thous. tons of goat milk is produced in Ukraine, i.e. at the mean 435 kg per one goat, while there is the resource for three-time productivity increase.
At this point, the culture of consumption of commercially produced goat's milk is just starting to emerge. Purchasing of such milk is more familiar to Ukraine's small towns (just milk but not cheese or other processed products) at the pop-up markets or from the acquaintances. However, does this livestock business direction have future? This is what we try to show you.
For quite a long period of time one could found exclusively imported goat's milk, such as Polish at supermarkets of large cities. However, this segment began to attract Ukrainian producers. The reason is quite prosaic: to start such business one needs much less money than for opening of a dairy farm with cows, on the other hand – prices for goat's milk are higher.
We have monitored the prices of goat's milk and its products in major supermarkets network in Ukraine. Thus, the price for one liter of goat's milk produced in Ukraine at the beginning of October was 55-92 UAH (depends on the fatness). Imported milk went for 115-120 UAH/liter. It is essential that the price of both domestic and imported milk has increased by 5 UAH / kg within a month. Kefir, yogurt and cheeses from goat's milk are several times more expensive compared to cow's milk products.
It is also important that before the devaluation of the hryvnia and the events in the East, residents of large cities, especially in the capital, as it was "fashionable", bought organic and farm products with the large number of goat's milk dairy products. Now sales have dipped slightly, but this niche of dairy products is quite large and not commercially filled now.
Several producers of goat dairy products have chosen the right direction, selling such products as cheese, butter rather than just goat's milk both at the supermarkets and via official online stores dairy.
If you are interested in the idea to open your own goats' farm, you should know the following:
1. The first step is to find a stable market channels;
2. Focus on the processing of milk, such as cheese, butter and reduce pasteurized baked milk;
3. There is a significant shortage of animals with normal genetics in Ukraine and therefore one has to import them from abroad;
4. The research of national scientists demonstrates that the best choice for breeding in Ukraine is La Mancha (4% protein, 5.1% fat);
5. Formation of the large herd of goats within a small group takes more than one year;
6. There are significant amounts of pastures in the country, located in difficult conditions (mountains, ravines, gullies), hence it is difficult for grazing the cows, but sheep and goats are able without problems to access cheap food;
7. The by-product (manure) can be used as a fertilizer and save on expensive mineral ones;
8. Recently, the demand for goats' products has increased in Europe, thus you will be able to become an exporter of such products in the future.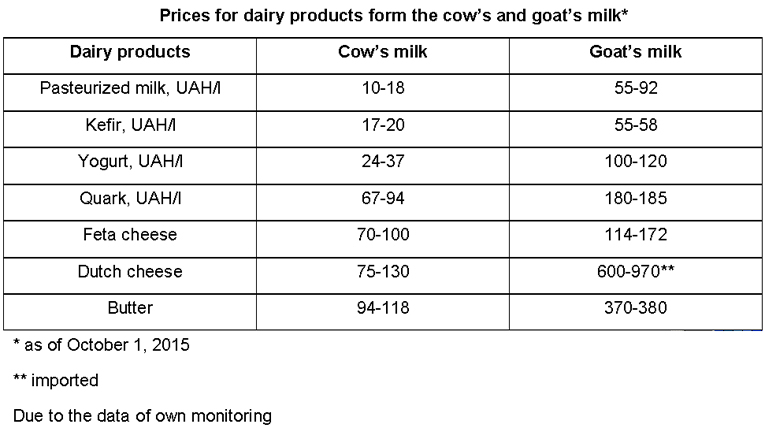 Ruslana Butylo
Head of Analytical Department of DYKUN
Photo: invest35.ru
Translated by Poliglotus Language Company
[Poliglotus.com] [Poliglotus Language Company]
---